2021 Future in Foodservice | Onwards with Confidence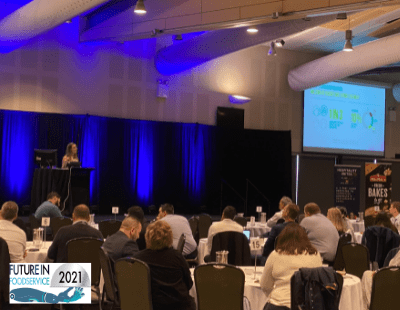 Australian foodservice Advocacy Body (AFAB) was thrilled to have been invited by Food Industry Foresight to introduce AFAB to the broader foodservice industry at the recent Future in Foodservice Summit.
AFAB CEO, Tony Green delivered to the 150 strong audience a great insight into who AFAB is, and why we exist.
The Future in Foodservice is an annual event welcoming stakeholders from across the entire foodservice industry and this year the event was held at the vibrant Australian Turf Club, Rosehill Gardens.
Executive Chef Gerry Maher and his talented team delivered exceptional food throughout the day. The day included a stella line-up of guest's speakers who each presented their view of emerging global opportunities - it was interesting to hear the food trend predictions and learn more about plant-based products. The latest foodservice market sizing data was released by Food Industry Foresight's Managing Director, Sissel Rosengren, and we have made the information available for you on our website.
"Events such as Future in Foodservice which are an important Segway into opening discussions to focus on future trends and innovation. Both are incredibly important for our industry as we look toward the future and areas we can identify for future growth". Said Tony Green.

Tony was thrilled to have also been afforded the opportunity to introduce AFAB and present the three core pillars of the Association. Connect | Advocate and Integrate. Visit our home page to read the details of the pillars
The feedback from the Summit regarding AFAB has been humbling, the industry is welcoming to the prospect of a single voice to represent the foodservice sector.


If you are interested in becoming an AFAB member or discuss ways you can connect please visit our membership page or contact us