AltProteins 22 Conference has been Announced
AltProteins 22 will unite the agri-food industry leaders, retailers, innovators, investors and policymakers shaping Australia and New Zealand's emerging proteins sector, enabling critical conversation and collaboration to realise the industry's potential.
MELBOURNE | 16 FEBRUARY, 2022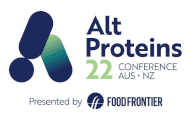 Billions of dollars in investment are pouring into alternative proteins globally each year. From meat and agribusiness giants to FMCG leaders and forward-thinking governments, it's now widely accepted that the scale-up of new protein industries – including those using plants, cell-cultivation and precision-fermentation – will play a critical role in feeding a world of 10 billion people by 2050.
Where does this leave Australia and New Zealand? Are we falling behind or leading our region? What can we learn from more mature overseas markets? And what does all this mean for our long-standing agriculture sectors?
AltProteins 22 will tackle these questions and many more.
As the first-ever alternative proteins conference for Australia and New Zealand, AltProteins 22 will bring together industry pioneers, agri-food and policy experts and leading researchers to explore transformative ideas, insights and developments in the space, while unlocking critical questions to inform the trajectory of alternative proteins down under.
As the leading educator and facilitator in our region's alternative proteins ecosystem – and the founder of AltProteins 22 – Food Frontier invites you to join us for this exciting inaugural event.
Speakers
​

Hear the latest insights from leading industry pioneers, investors, researchers, policymakers and more.