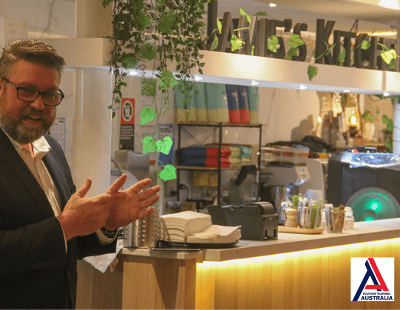 Australian foodservice Advocacy Body (AFAB) was fortunate to have been invited by Tourism Training Australia to introduce AFAB to the Tourism, Training, and Hospitality, sectors at the recent 350 Club dinner.
The 350 Club has a wonderful story - Several years ago a group of likeminded, passionate, hospitality professionals started to meet up four times a year to share a long lunch together.
The lunches were full of good conversation, learnings, laughter, and of course exceptional food.
Fast forward and today and we are so pleased that the 350 Club continues with Garry Stokes, dedicated Board member for Tourism Training Australia hosting the event.
Recently a dinner was hosted at Jamie's Kitchen in Darlinghurst. The guests had a wonderful night, and to see so many people coming together both new, and familiar, is a wonderful testament to the founders.
These events have developed into a wonderful opportunity to network with likeminded Industry Professionals in a casual environment. Guest speakers are invited to address the group with a particular focus on the latest industry updates or emerging trends within our industry.
Tony Green CEO Australian Food Advocacy Body (AFAB), presented at the dinner and delivered a wonderful insight into the foodservice industry and how AFAB will emerge to be the connecting voice representing producers, manufactures, suppliers, distributors, operators, and service providers.
Industry leaders attended the dinner including, Tourism Training Australia Members, Australian Culinary Federation Members, Food Industry Foresight, Foodlogic, IntoWorks and Various Vocational Education Providers, Trainers and Chefs from Foodservice outlets.