Webinar Registration - Costing and Profitability: Across the F&B Value Stream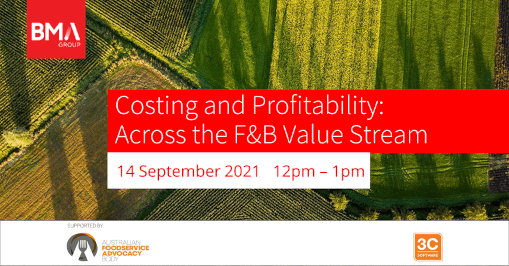 In this volatile environment we are trading in, understanding true costs across the entire value stream from cost-to-make, cost-to-distribute and cost-to-serve is critical to remain competitive.
Advanced costing systems can provide the accuracy and granularity required to drive real product mix optimisation, giving considerable savings without investing in new equipment or personnel.

Please join us to hear about the current state of the industry; the challenges and opportunities of costing and profitability; and real-time examples of how leading F&B companies have established robust costing processes.
Tony Green, CEO, Australian Foodservice Advocacy Body (AFAB)

Matthew Smith, costing and profitability expert, President and CEO, 3C Software

John Walker, Director, BMA Group

Chair: Kevin Simon, Director, BMA Group


Details

Tuesday, 14 September 2021

12pm – 1pm